Carpet/Flooring
---
Exterior Marine Flooring Options
---
Seagrass
Seagrass has become the most popular choice for exterior boat flooring in most boat types, it is suitable for Snap-In application with bound edges. We keep many options in stock for quick turnaround. Seagrass is also a common choice to replace carpet on pontoon decks. Seagrass is highly stain resistant, mildew resistant, dries fast, UV stabilized, features a 1/4" under-pad for added cushion and comfort, it's available in a wide variety of colors and patterns, and looks amazing! 10 year warranty.
Order Seagrass samples online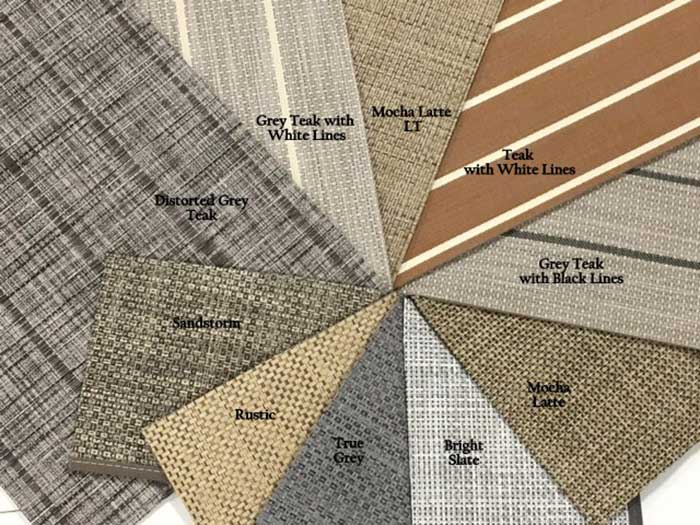 ---
PlasDeck
PlasDeck offers the great looks of real hardwood floors without the maintenance and the price tag. It has a non-skid texture and real wood grain look, and is available in a variety of light brown and grey shades with both black and white lines. Even with glow-int-the-dark lines! Clean borders, does not shrink and does not peel. This is the best choice for durable and low maintenance swim platform coverings! 10 Year Warranty.
---
Faux Teak
Faux Teak is currently a very popular choise for boat flooring, it's a soft Non-Skid flooring product available in brown or grey with black lines. Straight lines, diamond pattern and hexagonal patterns are just a few of the custom design capabilities of this product Peel-n-Stick application and now also available in Snap-In Installation. 3 Year Warranty.
---
Vinyl Flooring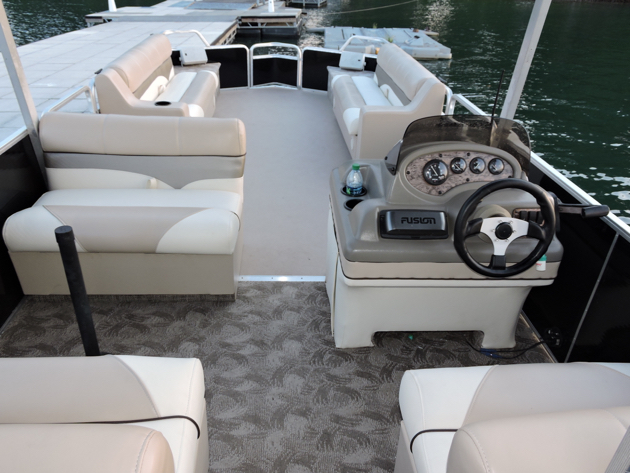 Vinyl flooring is an economical option specifically suitable for pontoon boat deck covering. Features a Non-skid surface and is available in tan, taupe, and grey colors. 3 year warranty.
---
Carpet
Timeless and most cost effective option for Snap-In and Glued Down floor coverings. Available in a few colors and patterns. 3 year warranty.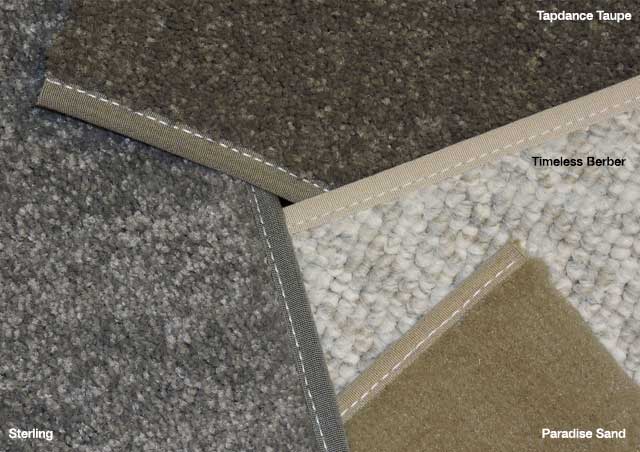 Carpets currently in stock shown above.
Order carpet samples online  

---
Interior Marine Flooring Options
---
NautikFlor
NautikFlor is Best suited for interior flooring installation in your cabin cruiser or Houseboat. Water Resistant Marine Grade PVC Wood Grain Texture Finish. Will not rot, peel or crack. Easy to clean, hard to scratch, low maintenance Patented click-install system with seamless joint. Can be installed by itself or combined with a coordinating carpet.
---
Interior stain resistant carpet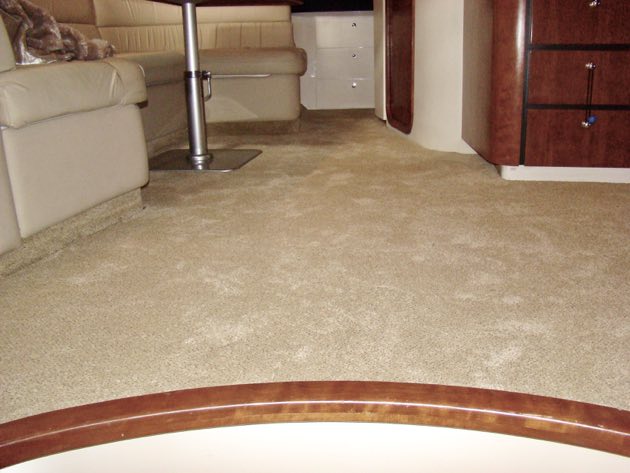 Replacing the carpet in your boat does not have to be a nightmare. Generally completed within one week or less! Allow us to suggest a solution for your boat interior that will update the look and feel of your interior space! Call the experts at Overboard Designs to schedule a consultation 678-714-7122