Carpet/Flooring
Carpets Seagrass Vinyl Flooring PlasDeck & CoolTeak PlasTeak AquaTrac
---
Carpet
Carpet replacements give your boat a fresh look and a great feel. This is our most commonly requested service. Overboard Designs offers several types of carpet options for every kind of boat to meet all your marine carpet needs.
Snap-In – Snap-in carpeting provides your boat with flexibility and versatility at an affordable price. Easily clean, remove or install carpeting by snapping into place.
Glued Down – New boat carpet gives your boat an automatic updated look and feel. We replace your old, worn marine carpet using a high-quality adhesive to ensure a job well done. We offer glued-down carpeting in a variety of grades, colors and textures, so you can maintain or upgrade the quality to meet your needs.
Interior Houseboats & Cruisers – Overboard Designs offers endless high-end carpeting options to help make the interiors of your houseboat or cruiser feel like home. Experience full luxury beneath your feet while enjoying peace aboard your boat. Now also offering moist resistant padding options for this carpet application!
Exterior Houseboat – Replace your old, beat-up carpet with new, fresh carpeting. Transform your boat with high-durability carpeting prepared to battle abrasive weather but still have the latest colors and patterns. From bow to stern, we'll have your boat looking renewed in no time.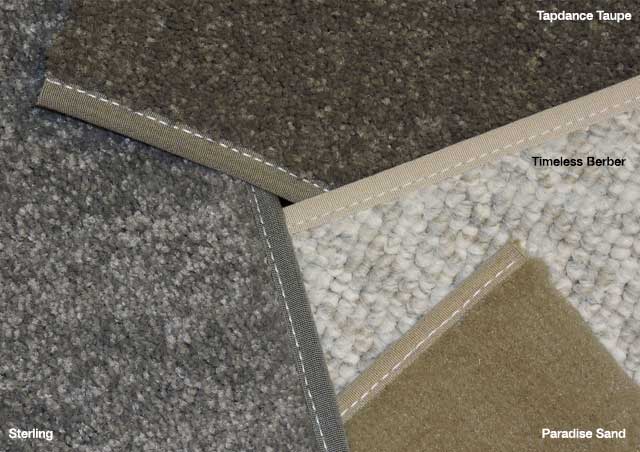 Carpets currently in stock:
Order carpet samples online  

---
Seagrass Carpet
If performance and durability is your priority then you should consider Seagrass as an alternative to traditional boat carpet mats. Seagrass floor coverings are proving to be an especially popular option within the top boat manufacturers and we are the only marine upholstery shop in the south east offering it.
These bamboo like fibers – sisal and seagrass – mean coverings that are subtle in their beauty and essentially everlasting in their durability. Not only is it eye-catching, but it is extremely durable against both sun wear and water, highly stain resistant, and very easy to wash. Like carpet, you will also be able to move around the cockpit of your boat without the need for shoes and flip-flops due to its soft cushion under your feet and the rubberized padding underneath.
The great looks of Seagrass coverings will capture your heart on the first outing and their true value will assert itself on the hundred-and-first day on the lake.
Seagrass Carpets currently in stock:
Order carpet samples online  

Seagrass Colors
Bright Slate
Distorted Grey Teak
Grey Teak With Black Lines
Grey Teak With White Lines
Mocha Latte
Mocha Latte LT
Rustic
Sandstorm
Teak With White Lines
True Grey
---
Vinyl Flooring
This has come up to be one of the most requested options for pontoon boat flooring in place of carpet. Vinyl flooring comes in a variety of neutral colors and is used by most high quality pontoon boat manufacturers for easy clean and maintenance. It is non slippery. We can always add custom carpet mats to snap in and out easily to add to that luxury your feet are accustomed to.
Overboard stocks the most popular colors of vinyl flooring, call or email us for free samples!
---
PlasDeck & CoolTeak
Now offering the beautiful look of hardwood floors without the countless hours of maintenance that is required yearly for true hardwood decks. PlasDeck and CoolTeak are virtually maintenance free with their anti-slip, anti-fungal, and anti-stain material, and offer easy clean up. This new alternative flooring comes in many color combinations and is significantly more affordable. Our team has been trained to deliver a flawless installation much superior than all other options. You won't be disappointed with PlasDeck or CoolTeak in your watercraft and it is sure to have your family and friends complimenting you for years to come!
---
PlasTeak
Are you looking to modernize the interior of your watercraft? Look no further! PlasTeak is a wonderful interior flooring option for those wanting to update their cabin or living quarters. It gives the confortable look and feel of real hardwood floors but does so in a cost-effective way. This flooring option is tough as nails, offers traction control in slippery environments and is in the run for the long haul. Give this option a try over carpeting and hardwoods… call now to set up your consultation!
---
AquaTrac
What is the latest in durable flooring that all the premium manufacturers are using now? AquaTrac! This flooring option is an alternative to synthetic teak, genuine hardwood floors and foam products. This unique option is known for comfort, sound deadening, amazing traction and incredible durability. You won't find issues like shrinkage or tearing that other similar competitive products are known for. And, the best part is, it is customizable with different shapes and colors, made specifically for your watercraft. Easy installation. Take advantage of this stylish popular flooring and enjoy your boat the way you should!