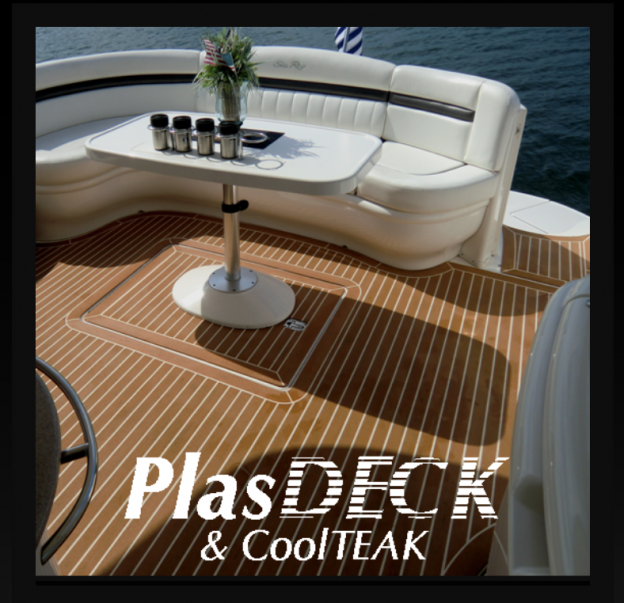 Overboard Designs is proud to announce we are now the exclusive Georgia installer of the following new and fabulous flooring options!
PlasDeck & CoolTeak – Now offering the beautiful look of hardwood floors without the countless hours of maintenance that is required yearly for true hardwood decks. PlasDeck and CoolTeak are virtually maintenance free with their anti-slip, anti-fungal, and anti-stain material, and offer easy clean up. This new alternative flooring comes in many color combinations and is significantly more affordable. Our team has been trained to deliver a flawless installation much superior than all other options. You won't be disappointed with PlasDeck or CoolTeak in your watercraft and it is sure to have your family and friends complimenting you for years to come!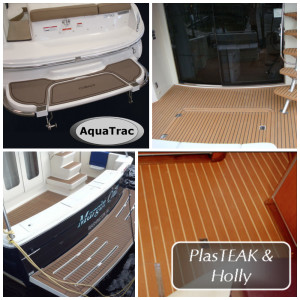 PlasTeak – Are you looking to modernize the interior of your watercraft? Look no further! PlasTeak is a wonderful interior flooring option for those wanting to update their cabin or living quarters. It gives the confortable look and feel of real hardwood floors but does so in a cost-effective way. This flooring option is tough as nails, offers traction control in slippery environments and is in the run for the long haul. Give this option a try over carpeting and hardwoods… call now to set up your consultation!
AquaTrac – What is the latest in durable flooring that all the premium manufacturers are using now? AquaTrac! This flooring option is an alternative to synthetic teak, genuine hardwood floors and foam products. This unique option is known for comfort, sound deadening, amazing traction and incredible durability. You won't find issues like shrinkage or tearing that other similar competitive products are known for. And, the best part is, it is customizable with different shapes and colors, made specifically for your watercraft. Easy installation. Take advantage of this stylish popular flooring and enjoy your boat the way you should!