Mission Successful: Wakeboard Boat Renovation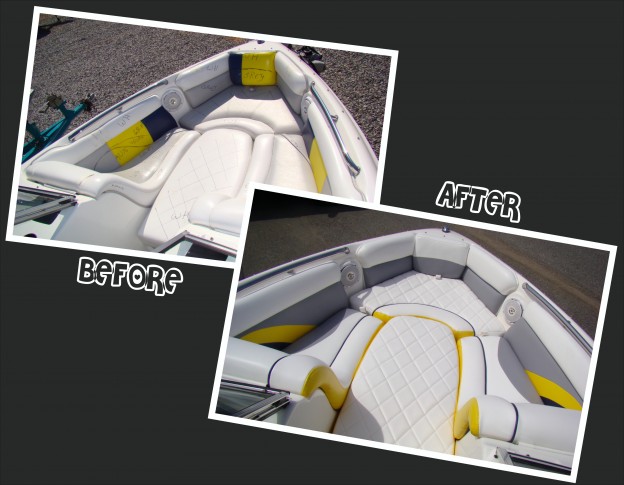 Overboard Designs recently finished a full renovation of a 2004 Tige 22V wakeboard boat that you won't believe is 10 years old! Owners Mickey and Nora Brokas purchased their watercraft brand new in 2004 and have used it generously ever since. The team at Overboard Designs was able to re-create their family boat and completely surpass their expectations!
Mickey Brokas did his research before choosing Overboard Designs.   He checked out three companies and was by far impressed by Cibele (owner) and her team. Mickey visited overboarddesigns.com to check out the before and after photos section and finally made a choice to visit in person. He described Cibele as being lively and enthusiastic about his project and was thrilled to know she was equipped with undercover storage and work area.
When asked what set Overboard Designs apart from other marine upholstery companies Mickey responded, "She (Cibele) spoke English well which is nice and I liked her and her facility. The other places I went were OK but she had more employees and it appeared she did more work than the other places. The whole family enjoyed her very much!"
Overboard Designs jumped right into this complete restoration by grabbing a few permanent markers and scribbling ideas and designs on the interior of the boat with the Brokas family. They talked about new colors, designs, patterns and more. "Literally, every piece of the boats on the inside was redone except for the dashboard. Even the steering wheel is new!" stated Mickey.
It was hard for Mickey to pick his most favorite part of the revamp because he was so happy with the recommendations from Overboard Designs. He was thrilled with Cibele's knowledge and creativity. Mickey said, "We had some spots (on the boat) that get a lot of sun and she recommended changing the color from grey to white… and she is right! It never even gets warm now! That is the best part! It is not hot at all, it is the best decision we made that she recommended. She knows the right colors for the boat!"
Mickey and his family are thrilled with the new colors and patterns that were custom-designed by Overboard Designs. He said they would have never thought to do what was suggested but are extremely happy they went with it. "The colors along the sides of the seat are my favorite part. The four-inch border we did in yellow and the yellow material is like snakeskin and it really popped out. Before it was just white. We saw this material and told her what we were looking for and she worked with us to make it happen." Mickey said. He also described the blue piping on the seats as "gorgeous" and was delighted with the new drivers seat.
All-in-all the Brokas family gives Cibele and her team at Overboard Designs a 5 star rating! They have already recommended their shop to many of their friends and are proud to continue to do so. This is just one example of the many proud boat owners that leave Overboard Designs with their expectations blown away!